"Transformation for the Future of Work" is an International Coaching Week (ICW) event. Learn how today's organisations are adapting for tomorrow's needs as we interact together on a new platform for making human connections.
International Coaching Week (ICW) is a global, annual platform to promote coaching established by the International Coaching Federation (ICF) since 1999.
A week-long global celebration of coaching, people will learn, grow and experience coaching through the week's events and activities. It is sponsored by the International Coach Federation (ICF) and this year will run from 17th – 23rd May 2021. For more information, see their website: http://coachingfederation.org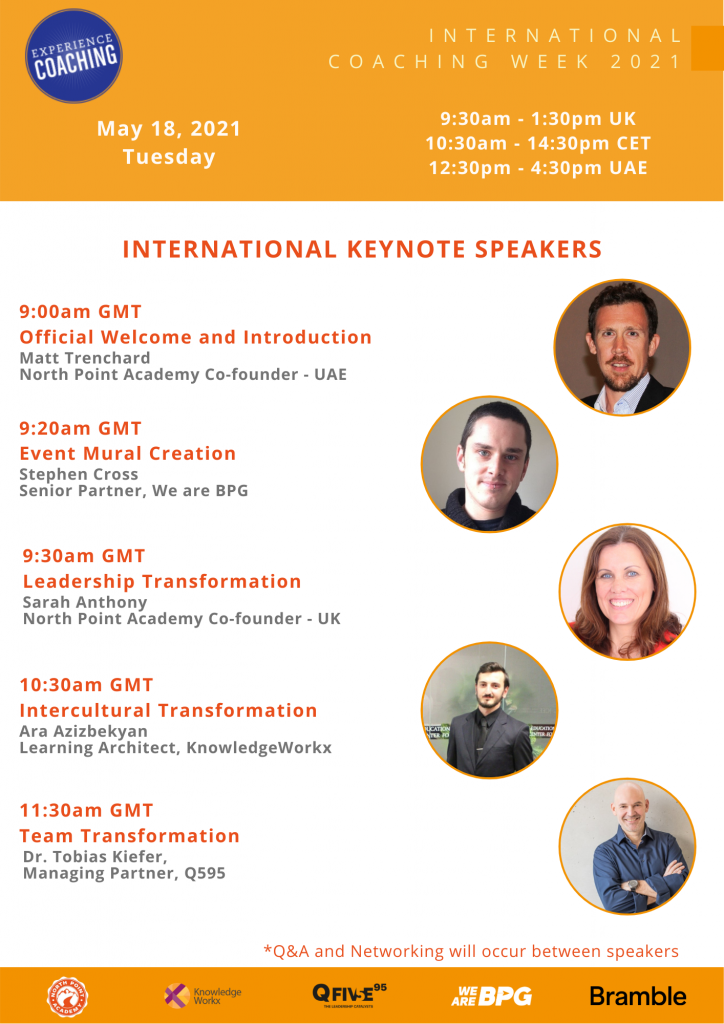 Register today and receive:
Free 1:1 Leadership Coaching session – This will be provided by a certified North Point Academy coach. Indicate 'yes' when registering.
Free Consultation – North Point Academy designs corporate solutions. How can we help you in your organisation? Use the follow-up survey to book a session with us.
Free Introduction to Coaching Event – 4:30pm UK / 7:30pm UAE on 20th May 2021. Find out more here.

Location: Our Online Platform
"Transformation for the Future of Work" will be an online event, hosted on new tech-supported event platform, Bramble.

Our Contributors
Event Sponsors
We would like to thank all of our event sponsors for their support of International Coaching Week and, in particular, "Transformation for the Future of Work"