Week 2 of 4: What you could be learning
Welcome back for Week 2 of our celebrations for our ICF accreditation. Receiving the acceptance email was a proud moment, even more so because the content of the programme is original – and personal – to us! After last week's "Why be a coach", this week we will uncover the "What?" Specifically, what you will be learning when you join a future NPCA cohort.
Up until now, you have been hearing from Matt, so before we delve into this week's topic, I would like to introduce myself.  My name is Sarah Anthony, and I am the Director of Coaching and, along with Matt, co-founder of NPCA.
When Matt & I started writing the material for our coaching programme, we had already been planning and testing our tools through our own coaching practices for well over a year. What resulted from our conversations and practical application was the Certificate in Professional Coaching and today I am going to invite you to take a closer look at the key subjects that you can learn during our coaching programme.
Course Overview
The Certificate in Professional Coaching is delivered over a 16-week period via a mix of face-to-face training, online webinars, coaching practice groups, mentor sessions and self-study. Let's look a little closer at the content of the 7 sections of the programme.
1. Core Coaching Skills Course
The initial 3-day face-to-face training course, which can also be taken as a standalone course, introduces core coaching topics, to help you develop more meaningful relationships and have more powerful conversations to be a positive change for the world.
You will learn about the North Point Meta-model (NPM), which underpins all of our NPCA models and tools. The NPM describes how our internal thoughts and feelings affect our external world through our actions and impact.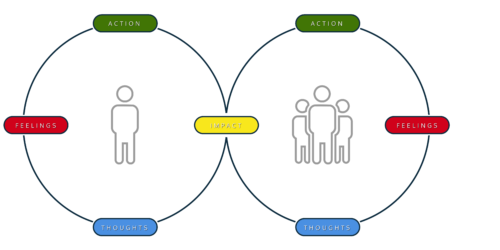 We also introduce our 7-step coaching model, The Journey, developed by North Point Coaching Academy, which acts as a framework to structure coaching conversations with your coachee.  The Journey helps coaches to guide their clients through the seven steps from where they are now, to where they want to be.
2. Empowering the Coaching Experience Course 
This one-day face-to-face training module at the mid-point of the programme, is designed to build on the skills learned up to this point with observed coaching practice and group mentoring sessions.  At this point, we will also ask students to start coaching their first client.
3. Deepening the Coaching Experience Course
Our intention during the final 2 face-to-face days is to enhance your coaching knowledge and skills by going to a deeper level with the North Point meta-model. Learning how to explore values and beliefs, as well as looking at tools to help you operate in your preferred niche, as an NPCA coach.
4. 6 x 90 minutes Virtual Forums
Each webinar looks in depth at an aspect of the practical skills to take your clients through a coaching series from the initial session and signing a contract right through to the closing session.
5. 10 x Mentor Sessions
Your journey as an NPCA student is supported by 10 mentoring sessions with an ICF credentialed coach.  Six of the sessions will be during the coach training itself with four further sessions after the course to support your journey towards achieving your ICF credential.
6. Coach Practice Groups
You will participate in weekly coaching practice with your fellow students, where you will also give/receive feedback. Part of your self-study assignment will be to practice the coaching skills learned during your last training session.
7. Self-Study Assignments
Reading and self-study assignments will help you to further develop your coaching knowledge and will inform your discussions in each of the Virtual Forums.
If you would like to read in more depth about our programme details and content, you can visit our website to find out more. Next Wednesday, I will be back to talk about the steps required to acquire your ICF credential.
Please write us a comment below – or email us with your comments and questions.
Enjoy your week!
Sarah