By Sarah Anthony - posted on March 1, 2017
Getting out of the Problems and Drama and standing on the summit of Vision: Levels of Attention
Thank you for reading our coaching tools blog series over the past few weeks, where I have introduced you to some of the main coaching tools that we teach our students on the
NPCA Certificate in Professional Coaching
. I hope you have enjoyed reading about the different processes and tools that you have been learning about and that you have been able to apply some of the models to your own coaching practice. If you want to read more about last week's blog on the North Point Meta-Model you can click
here
.
Levels of Attention
Not so long ago, I arrived at a coaching session with my own coach. I was late and I had a number of issues playing on my mind. In fact, I had been feeling so down that I actually wanted to cancel the appointment, but had also forgotten to cancel so decided that it was unfair to not attend at such late notice. Rather than getting on with my session, however, I went straight into a whirlwind of apologies for being late which led to an emotional discussion about what was going on in my life. My coach let me rant for a short while, before politely pulling me back to ask me what I noticed about my current thoughts.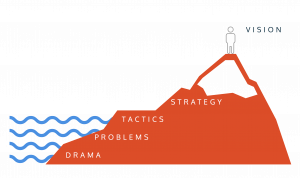 Drama and Problems
When I was able to notice my own thoughts, I realised that I was totally consumed in the negative emotions I was feeling, or if we look at the Levels of Attention model above, what we would call "Drama". Being in the Drama can be described as being in an emotional state where you are stuck or unable to move forwards. In the diagram above showing the Levels of Attention model, we use the metaphor of a mountain leading down towards the sea. You can see that when we are in the Drama, we are beneath the water, drowning, in fact. One step up the mountain and we are still underwater at the Problems level, yet closer to the surface. Our focus could be on what's currently going wrong and all the reasons why our goals are not possible. In our coaching sessions with our clients we can help them to notice where they are putting their attention, either at any given moment or on a more consistent basis, and the impact of doing so. When they are able to direct their attention to a level that is more useful for them, this will create a more positive impact. Often, by simply helping our clients to notice where they are can help them to change their perspective. Sometimes, we might need to coach them around their current and desired impact to help them shift to a more useful level.
Vision, Strategy and Tactics
I would like to invite you, for a moment, to imagine standing at the very top of a mountain. What can you see when you stand up there? You get the full panoramic view of the beautiful vista below. Everything down below looks peaceful and calm, and you can clearly see the route that you want to take. This is what it feels like when you place your attention on the Vision that you want to achieve. You not only know the goals you want to achieve, you also know your reasons for wanting to achieve them and can see the big picture of how to get there. The Vision perspective can also act as a great motivation for you when things are not going completely smoothly. When clients focus on the Vision level, they are able to see the big picture in terms of their goals and are able to pull back from the details and potential pitfalls. When working towards our goals, however, it may not always be useful to stay at the top of the mountain at the Vision level. There are also tactical steps to be taken and strategic plans to be made at different times on our journey. People might naturally be better at focusing on one level, for example the client who loves to create visions and goals but doesn't like to take action. At times, our attention may need to be on the Strategy or Tactics of the Levels of Attention model. When we focus on Strategy, we place our attention on defining our plan for achieving the Vision we have set without focusing too much on the day-to-day actions that need to be taken. Whereas, at a Tactics level, we are attending to the action steps that need to be taken towards our goals. Once again, when our client becomes aware of not only where they are giving their attention, but also where they would gain the best positive impact at any given time, they can start to be more effective in achieving their Vision. For me, there are times when we need to place our attention at any of the top 3 levels of Vision, Strategy and Tactics - remembering that this is not a linear model, so you might move between these three levels as necessary. Where I find it least useful - and more tiring - to be is in the Problems and the Drama. If you want future articles delivered to your inbox you can sign up to the
NPCA Community
.
North Point Coaching Academy runs a 16-week coach development programme, which is accredited by the International Coach Federation (ICF). In 2017, we have programmes starting in March, May and October. You can read more about the NPCA Certificate in Professional Coaching on our website or contact me for more details on

[email protected]

.
Please leave your comments in the comments section below. Sarah